HONORIS CRUX
The first Honoris Crux was instituted in 1952 and as is proper for an award of gallantry, was for all ranks of the UDF (later SADF) who "without thought of own safety and through personal courage and determination performed a gallant act or deed against the enemy in the field" The original decoration was only awarded 5 times, once in 1973, and the other 4 in 1975, all of these were awarded to members of the SAAF In 1975 the award was upgraded and awarded in 4 classes namely the Honoris Crux Gold, The Honoris Crux Diamond, the Honoris Crux Silver, and the Honoris Crux. Of all these decorations the Honoris Crux Diamond has never been awarded. Of all the units in the SADF only the Reconnaissance Regiments were awarded more Honoris Crux decorations than 32 Battalion. The breakdown of the Honoris Crux Awards is as follows from its inception in 1952 to 1991
BELOW ARE THE :
HONORIS CRUX DIAMOND, HONORIS CRUX GOLD, HONORIS CRUX SILVER AND HONORIS CRUX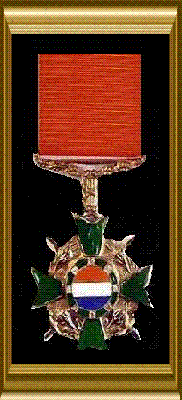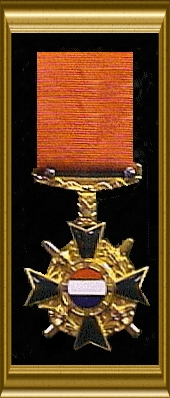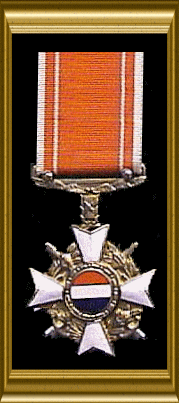 Honoris Crux First issue
5
Honoris Crux Gold and Bar
1
Honoris Crux Gold
6
Honoris Crux Silver
27
Honoris Crux
187
Posthumous Honoris Crux Awards
13
Honoris Crux Awards to Members of 32 Battalion
Honoris Crux Silver
Rifleman Feliciano Costa
Honoris Crux
Major Eddie Viljoen
2nd Lieutenant Petrus Nel
Corporal Eduardo Joào
Major Hannes Nortmann
Sergeant Rihan Rupping
Captain Petrus van Zyl
Lieutenant Tobias de Vos
Sergeant Victor Dracula
Rifleman Bernardo Domingos
RIFLEMAN FELICIANO COSTA
ON 22 APRIL 1979 RIFLEMAN COSTA WAS ON A RECONNAISSANCE PATROL WITH ELEVEN OTHER MEMBERS ABOUT 16 KILOMETERS NORTH OF THE ANGOLAN BORDER. THIS PATROL HAD A BRIEF CONTACT, BUT THERE WERE NO LOSSES ON EITHER SIDE. THEY THEN SPOTTED THE ENEMY LATER ON AND PREPARED AN AMBUSH AT A WATER HOLE THAT THE ENEMY WAS APPROACHING. DURING THE AMBUSH COSTAS'S RPD MACHINE GUN WAS SMASHED AND ONE OF THE AMBUSH PARTY WAS KILLED AND FIVE OTHERS WOUNDED, DESPITE THIS HE MANAGED TO KILL TWO OF THE ENEMY USING HAND GRENADES ABOUT 10 METRES IN FRONT OF HIS POSITION. HIS PATROL THEN RETIRED AND LAID AN AMBUSH ON THEIR OWN TRACKS. UNFORTUNATELY, THERE WAS NO COVER FOR RIFLEMAN COSTA AS HE HAD NO WEAPONS, HE BORROWED A WHITE PHOSPHORUS GRENADE AND TWO M-26 GRENADES FROM ONE OF HIS COMRADES AND WENT FORWARD KEEPING A LOOKOUT FOR THE ENEMY. UPON SPOTTING THEM HE WARNED HIS PATROL, AND THEN INITIATED THE AMBUSH BY LOBBING THE WHITE PHOSPHORUS GRENADE INTO THEIR MIDST. AT LEAST FIVE OF THEM WERE SET ALIGHT AND THOSE WHO CAME TO THEIR RESCUE SUFFERED BURNS AS WELL. RIFLEMAN COSTA THEN PROCEEDED TO LOB THE TWO M-26 GRENADES AT THEM AND KILLED ALL OF THEM. HIS PATROL THEN OPENED FIRE AND FORCED THE ENEMY TO RETREAT. RIFLEMAN COSTA WAS THE FIRST MEMBER OF THE SOUTH AFRICAN DEFENCE FORCE TO BE PRESENTED WITH THE HONORIS CRUX SILVER AT A MEDAL PARADE IN THE OPERATIONAL AREA.
MAJOR EDDIE VILJOEN
DURING FEBRUARY 1978 MAJOR EDDIE VILJOEN WAS IN CHARGE OF A COMPANY OF FIVE PLATOONS WHO WERE TASKED TO DESTROY A SWAPO BASE. TO GET TO THEIR OBJECTIVE THEY HAD TO DO A FORCED MARCH OF ABOUT 30 KILOMETRES. UPON REACHING THEIR DEPLOYMENT AREA THE FORCE WAS SPLIT INTO TWO GROUPS CONSISTING OF THREE AND TWO PLATOONS. MAJOR VILJOEN WAS ATTACHED TO THE LARGER GROUP AND SKIRTED THE NORTHERN SIDE OF A SHONA THAT LAY BETWEEN THEM AND THE ENEMY CAMP. A LOCAL GUIDE WHO HAD ACCOMPANIED THEM LED THE OTHER GROUP INTO AN AMBUSH ON THE SOUTHERN SIDE OF THE SHONA. AS SOON AS THE FIRING BROKE OUT MAJOR VILJOEN LED HIS GROUP FORWARD TO ASSIST THEM, ONLY TO BE CAUGHT IN AN AMBUSH HIMSELF. THE ENEMY FORCE CONSISTED OF AT LEAST 200 SWAPO TERRORISTS ARMED WITH RPG-7 ROCKET LAUNCHERS, 60MM AND 82MM MORTARS FIRING ON PRE-REGISTERED TARGETS. DESPITE BEING OFFERED AIR SUPPORT ON THE RADIO IN THE FORM OF HELICOPTER GUN SHIPS, HE REFUSED THE OFFER FEARING THAT THEY MIGHT BE SHOT DOWN. HE AND HIS MEN FOUGHT THEIR WAY OUT OF THE AMBUSH AND EVEN THOUGH WOUNDED, HE CONTINUED TO LEAD AND INSPIRE HIS MEN IN A RUNNING FIGHT THAT LASTED 7 KILOMETERS UNTIL THEY COULD BE SAFELY EXTRACTED BY HELICOPTER.
SECOND LIEUTENANT PETRUS NEL
SWAPO HAD SET UP A NEW INFILTRATION ROUTE INTO THE KAOKOVELD TOWARDS THE END OF 1981 AND WHEN THE SOUTH AFRICAN ARMY LEARNT OF THIS IT WAS DECIDED TO ASSAULT THE TRANSIT CAMP BASED AT CAMBENO 40 KILOMETERS NORTH OF THE CUNENE RIVER. PUMA HELICOPTERS AIRLIFTED THE ASAULT FORCE, BUT AS THE CHOPPERS LIFTED OFF NELLA LIEUTENANT NEL WAS KNOWN, FOUND THAT THE ENEMY WAS ONLY 50 METRES AWAY FROM THE LZ. FORTUNATELY FOR HIM THE HELICOPTER GUN SHIPS MANAGED TO NEUTRALISE SOME OF THE ENEMY AND GAVE HIM A CHANCE TO CONSOLIDATE HIS POSITION. AN INTENSE FIRE FIGHT DEVELOPED AND LIEUTENANT NEL'S POSITION WAS BEING ASSAULTED ON BOTH FLANKS SIMULTANEOUSLY. HE THEN CALLED FOR AIR SUPPORT BUT AS THIS WAS NOT AVAILABLE HE AND TWO MEN CHARGED THE ENEMY TO TRY AND ELIMINATE THE THREAT TO HIS TROOPS. DURING THIS SELFLESS ACT HE WAS KILLED.
SERGEANT VICTOR DRACULA , RIFLEMAN BERNARDO DOMINGOS
AFTER LIEUTENANT NEL WAS KILLED SERGEANT VICTOR DRACULA ASSUMED COMMAND, AND REALISED THAT HE HAD TO RECOVER LIEUTENANT NEL'S BODY AS THE ONLY RADIO IN THE GROUP WAS ON the DEAD COMMANDERS BODY. TOGETHER WITH RIFLEMAN BERNARDO DOMIGOS THEY TRIED TWICE, BUT WERE BEATEN BACK BY INTENSE ENEMY FIRE, WHICH CONSISTED OF AK47, RPK AND RPG-7's FIRING POINT BLANK AT THEM. DESPITE THE FACT THAT THEY HAD TO COVER AT LEAST 40 METRES UNDER THIS SORT OF FIRE WITHOUT ANY COVER WHATSOEVER, THEY TRIED A THIRD TIME AND MANAGED TO RECOVER THE BODY OF THEIR COMMANDER AND BROUGHT IT BACK TO THE SAFETY OF THEIR OWN LINES. SERGEANT DRACULA THEN RADIOED FOR AIR SUPPORT AND LAUNCHED AN ATTACK WITH HIS GROUP, AFTER ROUTING THE ENEMY HE ARRANGED AN ALL ROUND DEFENCE. AT THE END OF THE DAY THERE WERE SEVENTEEN DEAD SWAPO MEMBERS LYING AROUND THEM.
MAJOR HANNES NORTMANN, SERGEANT RIHAN RUPPING
DURING THE ATTACK AT THE LOMBA RIVER ON 13 SEPTEMBER 1987 A GROUP OF T54 TANKS MANNED BY A COMBINED FAPLA/CUBAN FORCE MANAGED TO BREAK THROUGH , AND FOUND THEMSELVES AMONGST A GROUP OF RATEL 90's.A BRIEF FIREFIGHT TOOK PLACE DURING WHICH ONE OF THE T54's WAS SHOT OUT AT A DISTANCE OF ONLY 20 METRES.THREE OF THE RATELS WERE SURROUNDED AND CUT OFF IN A TRENCH COMPLEX AND COULD NOT EXTRACT THEMSELVES.THESE CREWS BAILED OUT , AND WHILST THIS WAS OCCURRING ALL THE OTHER REMAINING ENEMY TANKS WERE DESTROYED BY RATEL 90's THE SOUTH AFRICANS HAD TO USE THE SUPERIOR MANEUVERABILITY OF THE RATELS TO GET BEHIND THE ENEMY AND TAKE THEM OUT FROM THE REAR. MAJOR HANNES NORTMANN RECEIVED ORDERS TO RECOVER THE THREE ABANDONED D RATELS. RADIO COMMS WERE EXTREMELY POOR , AND MAJOR NORTMANN HAD TO LEAVE HIS RECOVERY VEHICLE AND RUN OVER TO THAT OF SERGEANT RIHAN RUPPING 'S. BOTH MEN THEN PROCEEDED TO HOOK UP A RATEL TO THEIR INDIVIDUAL VEHICLES ,ALL OF THIS TOOK PLACE DESPITE THE FACT THAT ENEMY TANKS WERE ALREADY IN SIGHT , AND BOTH MEN WERE UNDER INTENSE SMALL ARMS FIRE, THE THIRD RATEL WAS RECOVERED SUBSEQUENTLY , THEREFORE PREVENTING SERIOUS SERIOUS LOSS OF MEN AND MATERIAL, AND DEPRIVING THE ENEMY OF A PROPAGANDA COUP.
CAPTAIN PETRUS VAN ZYL, LIEUTENANT TOBIAS DE VOS
DURING OPERATION MODULAR ON 11 NOVEMBER 1987 AN ATTACK WAS LAUNCHED ON FAPLA's 16TH BRIGADE. AN OLIFANT MAIN BATTLE TANK HAD BEEN DISABLED IN THE MIDDLE OF AN ENEMY MINEFIELD AND COULD NOT BE RECOVERED , IF THE ENEMY COULD CAPTURE THIS VEHICLE IT WOULD BE A MAJOR PROPAGANDA SETBACK FOR SOUTH AFRICAN FORCES. CAPTAIN PETRUS VAN ZYL WAS ATTACHED TO LIAISON GROUP WITH UNITA FORCES , AND LIEUTENANT DE VOS WAS A PLATOON COMMANDER OF ECHO COMPANY 32 BATTALION. THE TWO MEN DECIDED TO SEE IF THEY COULD RECOVER THE TANK AND UNDER INTENSE ENEMY FIRE MANAGED TO HOOK IT UP TO THE RECOVERY VEHICLE. WHEN THEY RETURNED TO SOUTH AFRICAN LINES LIEUTENANT DE VOS ADVISED CAPTAIN VAN ZYL THAT ONE MAN WAS MISSING, PRESUMED WOUNDED. THE TWO OFFICERS IMMEDIATELY DECIDED TO GO BACK , AND SEE IF HE COULD BE FOUND, UNDER COVERING FIRE FROM THE TANK SQUADRON THEY RE-ENTERED THE MINEFIELD , AND LOCATED THE WOUNDED SOLDIER. LIEUTENANT DE VOS HELPED HIM BACK, AND WHIST DOING THIS THEY BUMPED INTO A ENEMY PATROL , WHICH CAPTAIN VAN ZYL DISPOSED OF . THANKS TO THEIR UNSELFISH BRAVERY THE WOUNDED SOUTH AFRICAN SOLDIER SURVIVED
CORPORAL EDUARDO JOÀO
DURING OPERATION SEEPKIS ON 29 NOVEMBER 1979 CORPORAL JOÀO WAS ACTING PLATOON SERGEANT OF PLATOON 11, DELTA COMPANY 32 BATTALION. AFTER A CONTACT WITH A SWAPO FORCE CORPORAL JOÀO HEARD A NOISE , WHICH HE IDENTIFIED AS A STICK BREAKING, HE MOTIONED HIS TROOPS TO WAIT AND WENT FORWARD TO INVESTIGATE .HE SPOTTED A WOUNDED TERRORIST, AND DECIDED TO TRY AND CAPTURE HIM.THE MAIN SWAPO FORCE OPENED FIRE AT THIS POINT AND CORPORAL JOÀO ORDERED HIS PLATOON TO ATTACK , AT THIS POINT A 60MM MORTAR BOMB EXPLODED IN FRONT OF HIM, AND HE WAS TEMPORARY BLINDED BY THE DEBRIS THROWN UP BY THE EXPLOSION. WHEN HE REGAINED HIS SIGHT HE CONTINUED HIS MISSION TO CAPTURE THE TERRORIST, AND CHASED HIM FOR A FURTHER 200 METRES, CATCHING UP WITH HIM IN SOME DENSE BUSH NEAR A KRAAL.WHEN CORPORAL JOÀO ENTERED THE BUSH HIS QUARRY FIRED AT HIM, AND HE SUSTAINED A BULLET BURN ALONGSIDE HIS CHEST. SEEING THERE WAS NO CHANCE OF CAPTURING HIS PREY ALIVE, CORPORAL JOÀO SHOT THE TERRORIST IN THE HEAD. AS IT WAS VITALLY IMPORTANT TO CAPTURE THE ENEMY , CORPORAL JOÀO TWICE TRIED TO DO THIS, AND REPEATEDLY ENDANGERED HIS LIFE, HE ONLY DECIDED TO KILL THE TERRORIST WHEN ALL HIS OPTIONS RAN OUT.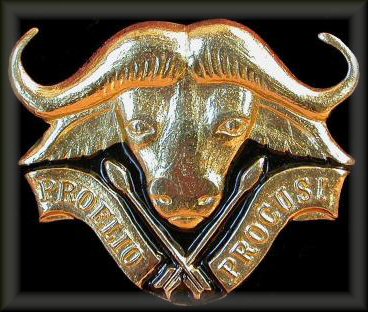 BACK
Copyright Cobus Venter 2006